Abruzzo is in the center of Italy, a mere 31 miles from Rome, though historically it has been considered a part of southern Italy both politically and culturally. Its eastern coast is bordered by the Adriatic Sea, with Le Marche to the north, Lazio to the west, and Molise to the south. Living in Abruzzo means easy access to both the sea and the mountains, incredible views, farm to table food, and pasta that is always made by hand, not to mention the numerous wineries and more than 900 castles that cover the region. More than 6 million tourists visit the region each year, with only 14% being foreigners.
Retiring in Abruzzo
Renting an apartment in this region runs cheap. Like everyone, rental prices change with demand, opportunity and so on. In the Abruzzo region rates vary between $200 a month in a smaller town to around $350 a month in more upscale cities like Penne and Sulmona, though the cost of living remains low. Interestingly, an astounding 80% of the people who live here own their home.
Italy has always been welcoming to foreigners who wish to buy property in their country. And in the Abruzzo region, properties are certainly less expensive than Lombardy and other northern areas. A three-story three-bedroom house in a hill town with one balcony overlooking the sea and the other balcony overlooking the mountains can be purchased for under $65,000. Village homes go for $25,000 to $40,000. This makes the region affordable even for people who are on a tighter budget. Larger properties, like houses and villas, 30 minutes from the sea and 45 minutes from Pescara, with three bedrooms, two baths, and more than two acres of land (which also includes olive trees) will run for around $190,000. That is more than half of what a similar property would go for in more well-known regions.
If you are heading into retirement, or planning to retire soon, from the US to Italy, there are also a number of questions that should come to mind. How will Italy tax my IRA, Roth IRA, and 401k accounts? How do I invest to mitigate exchange rate risk between the U.S. dollar and Euro? Does Italy have estate and inheritance taxes? There are some incentives that we will see later on. US citizens are still taxed abroad, but since Italy is a treaty country with the US, they tend to be much lower.
Incentives for New Residents
As of February 2022, new incentives have been introduced by the government to attract people to regions of Italy that are suffering from depopulation. Abruzzo is one of those regions and is full of small mountain towns that are ready for new residents.
In more detail, the Abruzzo region has introduced a bonus of €2,500 for those who move to one of the smaller mountain municipalities of the area. This is an incentive to attract new residents that is recognized for a three-year period.
The requirements are the following:
Has not been a tax resident of Italy for the last 5 years. To qualify as a tax resident you must spend at least 183 days within Italy.
Transfer their tax residence to the South of Italy in a qualifying municipality with a population of 20,000 or fewer residents.
Previously been a resident of a country that has a tax treaty arrangement in place with Italy.
Other than Abruzzo, the qualifying regions are Sicily, Calabria, Sardinia, Campania, Basilicata, Molise, and Puglia. Families are preferred, but it is not a requirement to retire in Abruzzo.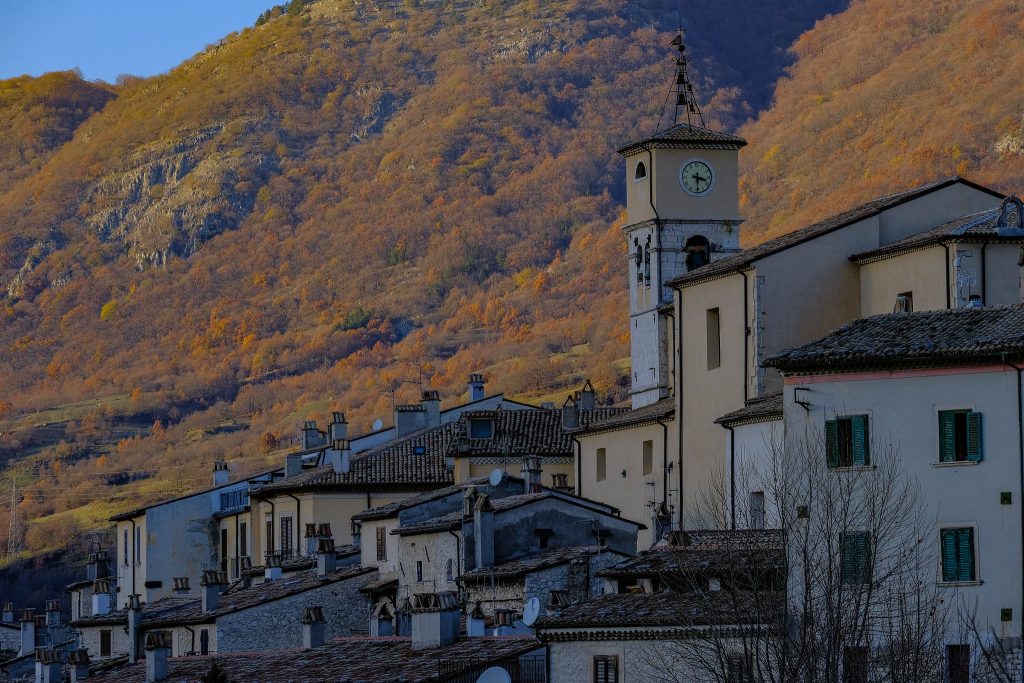 Income tax rates in Italy tend to be on the higher end, but, as we mentioned earlier, Italy is a treaty country with the United States. Any income earned above €75,000, for example, is subject to a standard Italian income tax rate of 43%. But, under the new preferential tax regime, an individual would be exempt from income taxes at the normal scale on all foreign income and only end up paying 7% as long as the requirements above are met. This rate also includes income from pensions, capital gains and dividends, any overseas business or rental income, as well as social security. It is an enormous benefit for U.S. citizens who would normally face higher taxation rates in Italy.
The Best Cities and Opportunities in Abruzzo
For a long time, Abruzzo remained isolated with a lack of transportation to bigger cities, or even the rest of Europe for that matter. While rural areas are still notorious for poor public transport—you will almost certainly need a car—most parts of the regions are now well connected.
Want to be near the main bus hubs, train stations, and the Abruzzo International Airport? Look toward Pescara—it has good train connections and numerous buses that will take you to major Italian cities. Rome is four hours by train or two-and-a-half hours by bus. If you feel like escaping for a weekend, plenty of airlines fly to many other major European cities.
In the last decade, more and more foreigners have been moving to Abruzzo to settle down. Towns like Casoli, Palombaro, Lanciano, Sulmona, and Penne have active English-speaking communities who are always happy to help newcomers get settled or learn about the region's rich history.
There are plenty of medieval towns spread throughout the region: Città Sant'Angel, Rocca San Giovanni, Manoppello, and the list goes on and on. They all share a few characteristics, too. Each is located on a hilltop with a church, a town square (piazza), and charming houses and all with incredible views of the area.
If you are interested in visiting a larger city, then Pescara, located on the Adriatic sea is the best place. Here you will find plenty of restaurants with tons of fresh seafood, local wines, meats and cheeses all accompanied by a lively nightlife.
Living in Abruzzo
Any expat based in Abruzzo (and Italy in general) will tell you that speaking Italian makes your life much easier. In Italy, the farther south you travel, the less likely you are to run into Italians who speak English. If you're shopping for groceries, visiting the doctor, or opening a bank account, expect everything to be done in Italian. On the other hand, you will find an abundance of private teachers who can help you to learn the language and there are even some cities that offer free Italian courses for foreigners.
While much of the region holds its rural roots close to heart, this does not mean culture is overlooked. There are beautiful theaters for opera and plays in Sulmona (birthplace of the famous poet Ovid and confetti, candy-covered almonds), Teramo, and Chieti that offer full schedules of shows, concerts, and more. Like every Italian town and city there are also plenty of churches adorned with incredible artwork, and museums scattered around nearly every town.
People who love the outdoors will be in heaven in Abruzzo. The region is home to Italy's largest national park—the Gran Sasso, as well as two other sizable national parks and a number of nature preserves. Horseback riding, climbing, skiing, fishing, mountain biking and hiking abound. If that is not enough there are also a number of mineral-rich hot springs, and accompanying spas where you can relax even more. But if that is not your thing there is so much coastline, with both public and private beaches, that you will always find a spot to get some sun or take a dip. You might even consider taking a cooking class and learning all about the local dishes.
Abruzzo is a region that has a lot to offer and it is a shame that it has been neglected for so long, but between these incentives and a number of younger people moving back in the wake of smart working, prospects for the region are starting to look up. Italy is a fantastic place to retire to, but if you are looking for an authentic experience then Abruzzo is the region to look at.
If you like this article please consider reading also how to apply for a residence permit in Italy, and the requirements for a residence in Italy.