Retiring to Italy
In order to retire to Italy there are only a few qualifications that you must meet in order to obtain the special "elective residence" visa. Because you are retiring you will be unable to work in Italy, but must be able to prove that you can sustain yourself through social security and pension schemes without placing any burden on the Italian state. If you are interested in learning more about retiring to Italy, check out our dedicated Retire to Italy guide.
Choosing a Place to Retire in Italy
"Cheap" is of course a relative term, but the cost of living in Italy—outside of Milan and Rome—is fairly low due to most of the job opportunities existing in the two previously mentioned cities. The first thing you will need to decide is the general space you would like to retire to: Northern, Central or Southern Italy and Sicily. Each has its own set of specialty foods, traditions and charm, and there is enough variation between them that it is almost like being in three different countries! The general rule, however, is that the farther south you go the cheaper it becomes and this is noticeable in everything from the cost of a bottle of water or a coffee all the way through housing.
Northern Italy—home to Turin, Milan, Verona and Venice—is the part that is best connected to the rest of Europe. In Central Italy we find Florence and Rome, the dividing line between north and south. Southern Italy gives us Naples, the true home of pizza. Sicily is perhaps the most beautiful of all, if you enjoy the beach. Its cities—Palermo, Catania, Syracuse—are the result of many different cultures, given its location, living and trading together.
The Cheapest Places to Retire in Italy
There are a number of cities that stand out from the rest, that manage to maintain the feel of a traditional Italian city while at the same time having a high quality of life standard. Alessandria, Rieti, Siracusa, Pescara—towns generally overlooked by tourists. Let's have a look. We'll start in the north and make our way south.
City by City in Northern Italy
Since we are examining the cheapest places to live in Italy, we will move from north to south and avoid any of the major cities in each region, except for the cheap ones, of course.
The first city is Alessandria, located in Piedmont—about one hour away from Turin, and even less from Milan or Genova. It has a population of about 93,000 and an average monthly living cost just over €1,100. Being in the north it is well connected by train and also has easy access to both the French and Swiss Alps where the cost of living is usually much higher.
Padova maintains a good balance between affordability and standing of living. It's less than 30 minutes from Venice by train, so you can enjoy all the benefits of Venice without actually living in one of the world's most visited cities. Padova has plenty to offer in its own right though. Like many other Italian cities, Padova is a historic town that's full of piazzas, bridges and narrow stone streets.
Surprisingly, Verona, of Romeo & Juliet fame (the famous balcony if you know the play), is a good option that remains on the lower end of the price range that remains aesthetically exceptional. It is full of ancient castles, piazzas and medieval churches. Due to its location, it has managed to maintain that more relaxed feel and its prices have not increased nearly as much as other Italian cities. However, because of its northern placement it is well-connected by train and close enough to Venice, Florence and Milan for any of them to become a simple day trip, two hours to either one. The cost of living per month here is about €1,300.
City by City in Central Italy
There are plenty of towns outside of Rome in central Italy that are fairly inexpensive while maintaining that historic Italian feel.
Central Italy does not have as many options as the north and south, but Rieti, a quick half-hour drive from Rome, stands out among the others. It's an ancient Roman town with a population hovering around 50,000 and is built on a hilltop, making it quite nice for photos. The walls surrounding Rieti were built in the early half of the 13th century. The average rent here runs around €1,110 with the rent included, a fraction of what it costs to live in the Eternal City.
Another option is Lucca. It is a showy and lively city that just so happens to be full of tall towers, palaces, churches (which Italian city isn't full of churches?) and an ancient Roman amphitheater. The city, like other southern cities, is contained inside of its old protective walls. Interestingly, you can walk along them because they've been converted into an incredible parkway that allows you to walk the perimeter of the city.
Arezzo is also a good choice. It is full of Medieval and Renaissance buildings that give the city an air that you could describe as aristocratic. It is here that Roberto Benigni, a hero to the town, filmed Life Is Beautiful (La Vita È Bella), which won an Academy Award. It is a picturesque town that, if you choose not to retire to, you should at least visit. The cost of living remains around €1,200 per month.
Siena is an incredible historic city in the heart of Tuscany and, like Syracuse, is a UNESCO World Heritage Site. It has a medieval city layout with beautiful and well-preserved ancient buildings. Its position in Tuscany also means that the views are some of the most incredible that the country has to offer. It's a city with many lively traditions, the most interesting (and absolutely unmissable) is the Palio where people dress up in the old colors of the city and participate in city-wide celebrations and, in the Piazza del Campo, organize horse races.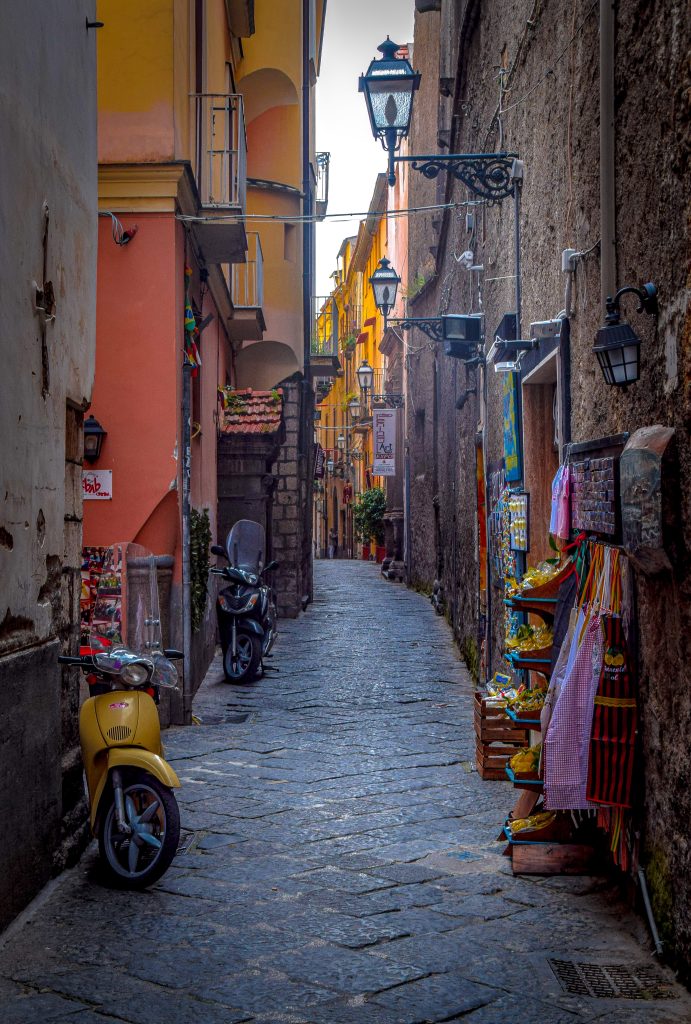 City by City in Southern Italy
If you absolutely have to live in a major city, then Southern Italy's Naples is the cheapest option. Otherwise, there are plenty of interesting cities to check out.
The first is Pescara with a population around 120,000. It's located in Abruzzo along the Adriatic Sea and is the region's largest city. Like most of the Italian coastline, the beaches are beautiful, but it's not so far from the Apennine mountains either. The average cost of living is about €800 without rent and another €400-500 with rent tacked on.
Next up is Campobasso. It has a population of around 50,000 and is a little more removed from city life, being three hours southeast of Rome and about two hours away from Naples. If you don't have a car, there are trains that are well-connected to the surrounding cities. As a bonus, tourists do not visit this city often so it has managed to maintain its traditional feel. The cost of living is just over €1,000.
Lecce, with a population around 95,000, is a mid-sized city located in the region known as Puglia and is famous for its baroque buildings. The city itself is more than 2,000 years old and is Puglia's "cultural capital." It is full of monuments, churches and palaces. This area, while less popular for foreign tourists, remains popular with Italians. The average cost in Lecce falls just under €1,400 per month.
Last up for southern Italy is Matera in the Basilicata (famous for strawberries) region. It has a population of just 60,000 and is perfect for those looking for a historical town with a slower, and affordable, pace of life. It is a city full of UNESCO sites, but other than this it comes with being one of the oldest places in Italy: it's more than 5,000 years old. Matera's landscape is mostly hills and mountains. The cost of living is a little more than €1,100.
City by City in Sicily
If you are searching for cheap places to retire, then it doesn't get much cheaper than the island of Sicily. While technically still part of Italy, there is much that's different.
Syracuse (Syracusa) is an excellent choice and really has everything people generally look for. It has a population of around 125,000 and average cost of living around €1,300. The city itself is a UNESCO World Heritage Site and was founded about 2,700 years ago. It's famous for Greek and Roman history, culture, amphitheaters, wonderful architecture and an interesting blend of cultures.
Cianciana is a small and certainly overlooked Sicilian city with just over 3,000 inhabitants, making it the smallest city in this article. The biggest benefit of Cianciana is its large expat community, which makes it easier to adjust to being in a new country where you may or may not speak Italian, let alone one of the Sicilian dialects which often sound like a mix of Greek and Arabic.
While Sicily is a great option, it is almost a requirement to have a car as the infrastructure for public transportation is not nearly as developed as it is in the north.
Buying, Renting and Other Costs in Italy
The choice here is clear: it is always better to own, to buy, the property if you plan on staying long-term, i.e., retiring. There are no restrictions, however, if you simply prefer renting by preference, for example, if you wish to move to a different town or region altogether.
There are a number of costs to consider when looking at the average cost of living other than rent. For gas, electric and water in Italy the cost averages to around €80 per month but this will likely increase during the wintertime. Compared to the United States, Internet connection and cell phone service is much cheaper, around €40 and €20 per month, respectively. Food will be the largest expense after rent, but a budget of €500 per month is more than enough, including going out to eat. Delicious food: the quality is excellent and very affordable at the supermarket. Transportation will depend on if you have your own car and must pay for gas, the cost of which is much higher in Europe than in the United States. Otherwise, the public transportation in Italy is excellent and you can choose to purchase either daily, weekly, or monthly tickets or get a card which you can simply tap (with a subscription); the price hovers between €40-50 per month, though there are discounts for children, students and seniors. If, on the other hand, you want to bike, you can grab a second-hand bicycle for less than €100—there is a lot of bike theft in Italy though, so it's better to get something that's a little beat up. That's a good breakdown of some of the cities to check out for retirement, but there are certainly too many to contain in just one article! It mostly comes down to preference and finding the perfect place to retire takes a lot of research. Italy has so much to offer that it's hard to imagine someone not finding exactly what they're looking for.
Are you interested in this topic? Read our related articles to learn more, such as, Elective Residence VISA, Retire to Emilia Romagna, Retire in Calabria in Italy and Retire in Abruzzo in Italy.