One
platform.
Endless possibilities.
Check out our brand new platform.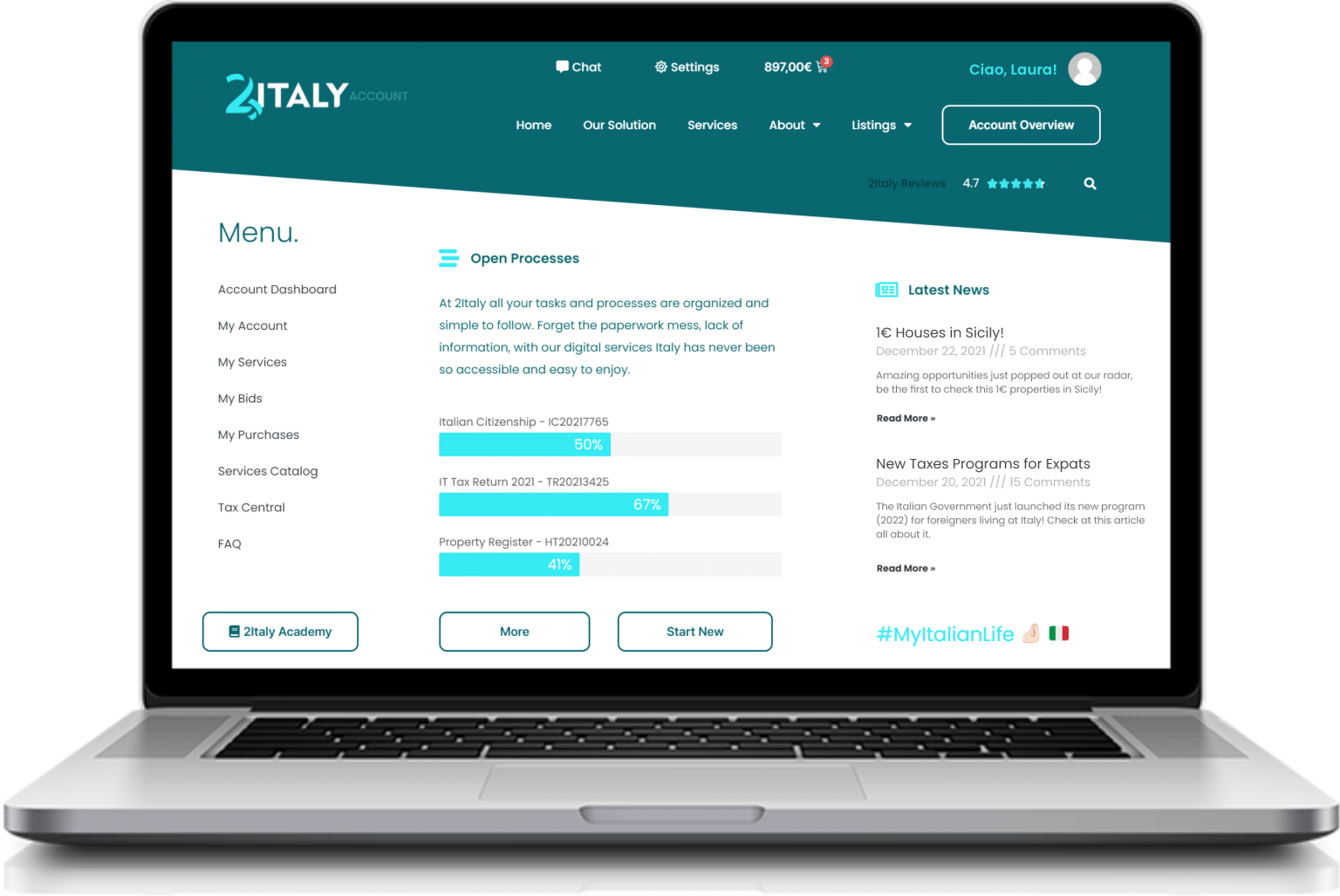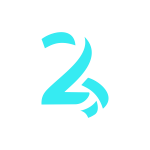 2Italy is your best partner to fulfill your lifelong dream to live la Dolce Vita. Our unique online platform removes the hassle to gather information, communicate, apply, and manage procedures. Our solution is built to provide an easy and seamless communication to help you accomplish your dream of calling Italy your new home.
Check out our unique platform
Apply for all your
Italian documents
in one place
You don't need to go various directions and hire the services of multiple professionals, such as lawyers, realtors, accountants, property surveyors and many other professionals. Our platform allows you to interact with our professionals  hassle-free.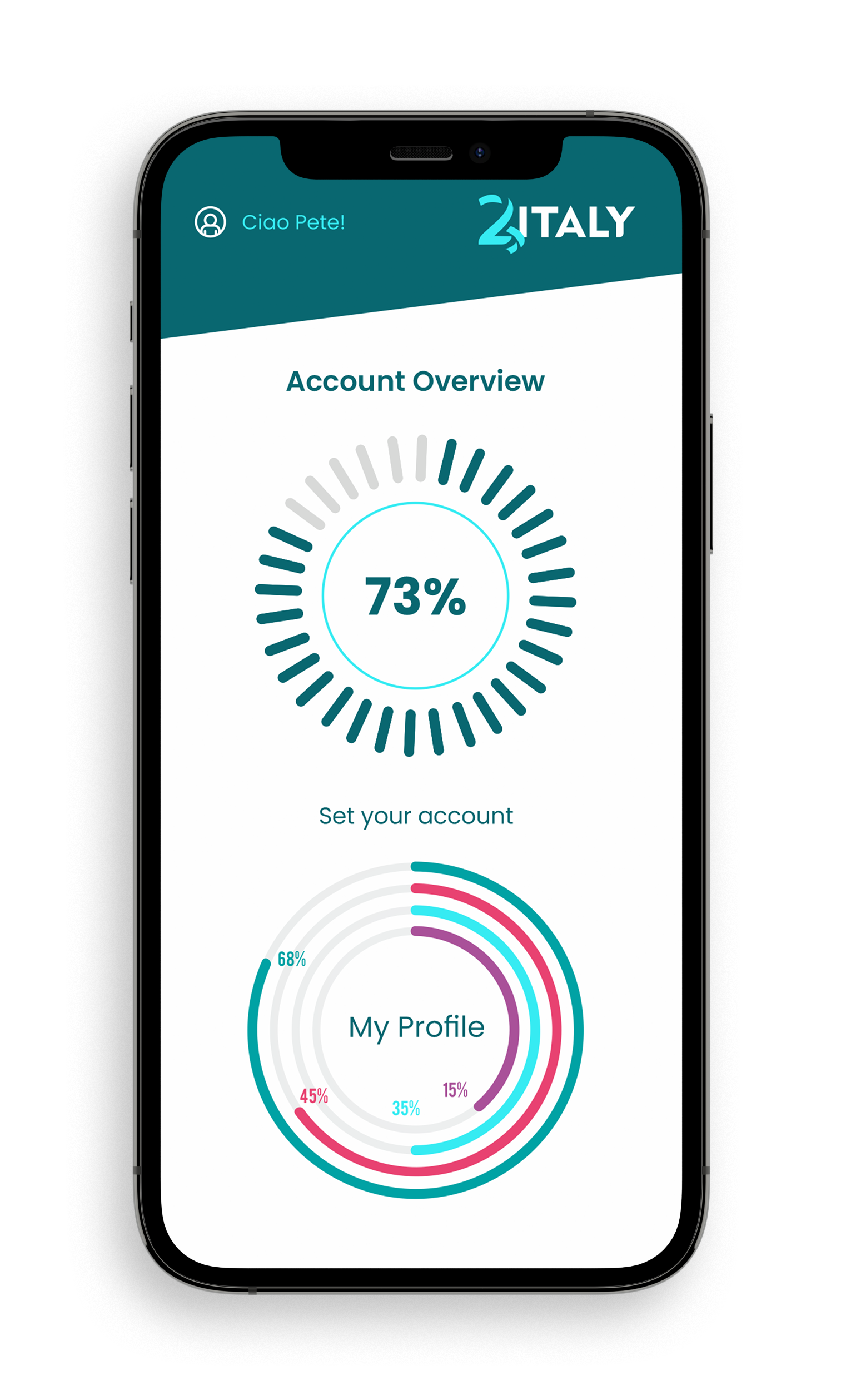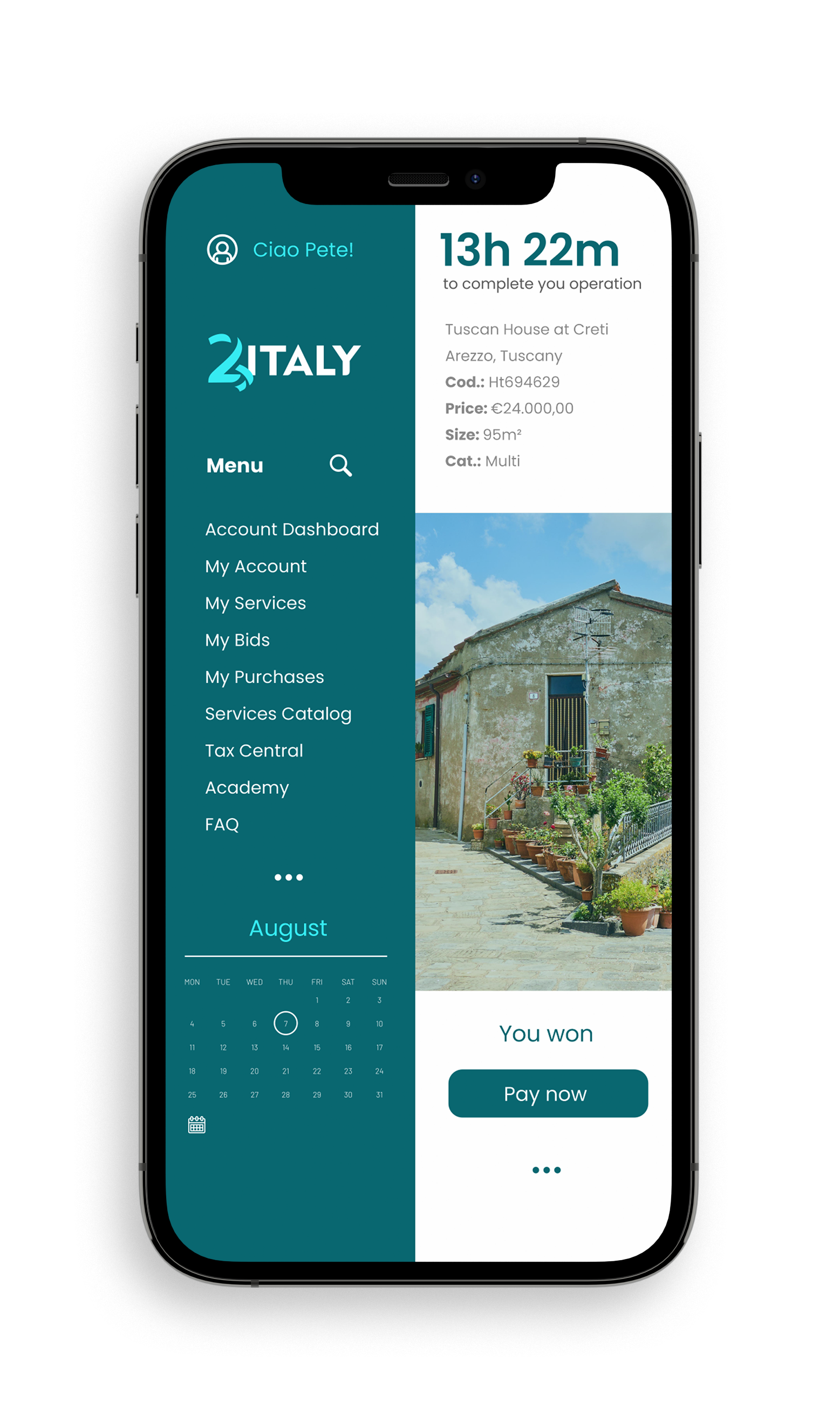 Manage all your processes
Our unique tool allows you to keep track of all your interactions with our platform, updating you with relevant information and seamless communication.
Based at our clients reviews
Amazing insight from Ale and the team at 2Italy. We went to their NYC based seminar and it was informative, educational and enjoyable. My wife and I spent some time discussing our options in New York and eventually arranged a private consultation and tour in Italy (Sicilia). Absolutely great experience and extremely helpful for our Italian adventure. They can help with any part of your process. Highly recommend!
Before Covid turned our world upside down I had the unique opportunity to meet with Alessandro & Nicolo @ Eatly in NYC & got to hear from them and learn from them how to make my dream of moving to Italy possible. Everything from the real estate & tax point of view. They laid out in very easy to understand terms how to be able make this move without making many common/expensive mistakes anybody might make. Now more than ever, after being on quarantine in NYC makes me realize how I will need their help once we are able to move about freely in the world. And having had more than my fair share of time to think about/dream about this, these past months.
They are very professional in their approach. They also go the extra mile to help you personally and take care that you are comfortable and have no doubts unanswered. I have been using their services for 4 years now and can vouch for their expertise and dedication. I can trust them with eyes closed and I would absolutely recommend their services to everyone.
2Italy is a huge help in the midst of italian bureaucracy. Their services and processes are clear, online, and easy. I definately recommend thei services for anyone wanting to move, work or invest in Italy.
As a new resident in Italy, I had lots of doubts and concerns about my tax liability. I didn't speak much Italian when I first arrived, so I needed a Commercialista who could speak good English. Luckily, I found Nico on Linkedin and haven't regretted it for a single minute. He is a very efficient communicator, with the ability to answer complex questions or sort out problems very quickly. It's definitely good to have a reliable commercialista on your side.
Nicolo, has been instrumental in helping me and my friends on tax front.He is highly professional and has immaculately quick response time.He has been patient to hear our doubts which can be really out of the box. Highly recommended for all the tax and other financial related services.